Excellence, Fun and Inclusion
We are a Community Arts Group based in Deepcar and operating across the North of Sheffield and beyond. We have a long history of working with young people and adults from all backgrounds and are especially proud to have given training and live performance opportunities to singers, musicians, actors and dancers who are, for whatever reason, socially and economically disadvantaged. We were formed in 2001 as the Inyerface Theatre Company and have seen many young people, who now have successful and rewarding professional careers in the performing arts, take their first steps on stage with us.
Over the last 20 years or so our interests have expanded and as Inyerface Arts we have provided teaching and support to individuals, schools, choirs and community groups, run holiday clubs and presented charitable events in the Victoria Hall, Sheffield bringing together local choirs including Stannington Mixed Choir, Waldershelf Singers and Thurgoland Community Choir.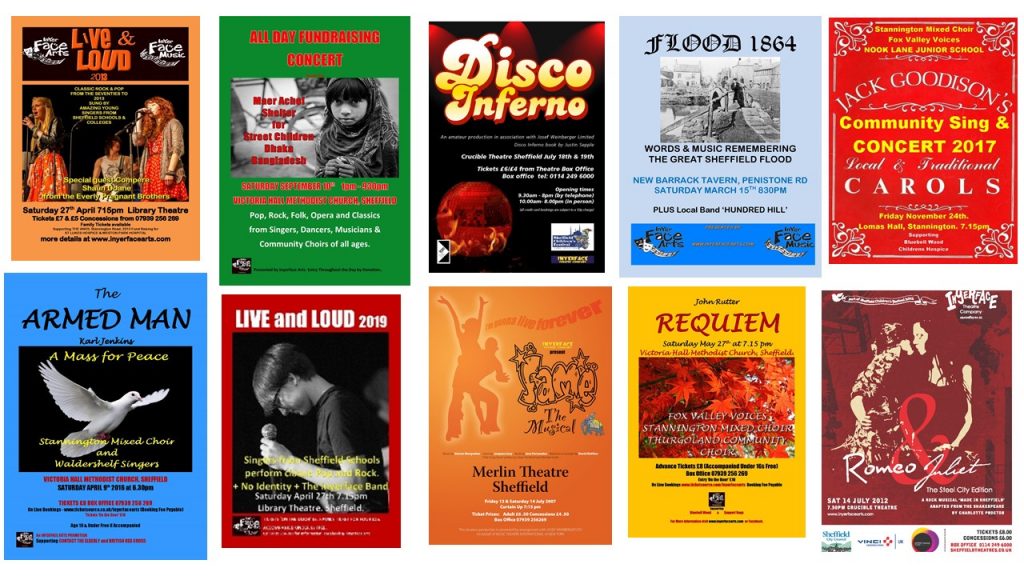 We have presented numerous gigs, concerts including our flagship Live and Loud rock night and the Jack Goodison Local Carol Concerts, staged many music theatre productions and also written and directed our own rock musicals in the Crucible Main House and Studio and the Library Theatre.
Our most recent work has concentrated on teaching and staging live performance events. As well as providing teaching ourselves we work closely with a network of professional instrumental, singing and music teachers and are able to provide tuition for most instruments and genres of music from pop to classical via jazz and music theatre.
We also manage the Sheffield Regional Centre for London College of Music Examinations providing vocational qualifications for young musicians and students wishing to follow careers in the expanding performing arts sector.
We work closely with local schools and with community choirs and creatively direct and co manage the No Identity youth singing group. In addition to our own concerts and events we have also collaborated with many local organisations including Bolsterstone Male Voice Choir, Fox Valley Voices, Fox Valley Kids, Dance Dynamique and Steel Valley Beacon Arts providing both artistic and technical support.
We pride ourselves on providing an affordable, fun safe and supportive environment where people can learn and grow as performers and individuals. All our participants are encouraged to take a part in running the organisation and working as part of the Inyerface team. Our cast and crew love working with us and the Inyerface 'family' has a great reputation for being a fun, welcoming and friendly set up. However we never let this conflict with our search for excellence. Our live shows always get great reviews and the quality of our teaching and exam results are among the very best in the area.
In recognition of this work in September 2019 we were invited to become partners of Barnsley Music & Education Hub.
By jointly promoting and producing The Valley Music Festival through our fantastic partnership with Bolsterstone Male Voice Choir we aim to provide long term support and development opportunities for young local musicians as well as encouraging community involvement
Contact Us
Facebook: Inyerface Arts.
Email: inyerfacearts@gmail.com